TRAILER MOUNTED
SOLAR POWER SOURCES
We manufacture a complete line of mobile trailer-mounted solar power sources that are ideal for use in areas where permanent power system installations are not desired. These systems can be used for multiple locations where power is needed. Simply hook it up to a truck and transport it to wherever you need power. The trailer system sizes range from 8 ft. to over 30 ft. in length. Spring suspension is standard on all trailers for smooth travels down uneven roads. Electric brakes are also standard on trailer systems exceeding 3000 lbs.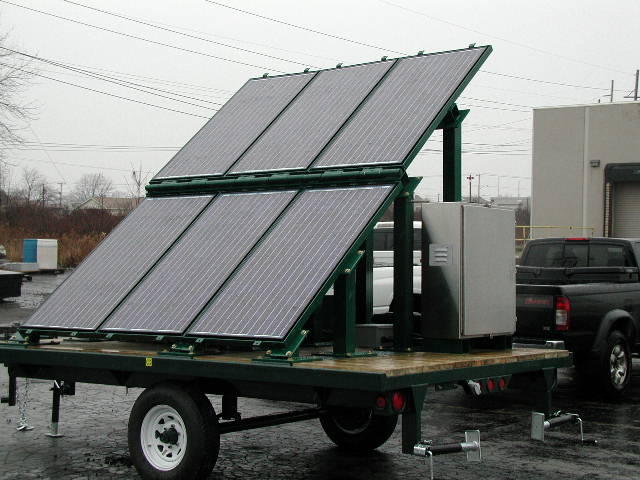 LOOKING FOR A HIGH QUALITY SOLAR SOLUTION?
TOP
4-Panel Trailer Mounted Solar Power Source
BOTTOM
6-Panel Trailer Mounted Solar Power Source
SOLAR POWER AS STRONG AS YOU NEED

Our trailer-mounted solar solutions can integrate power output voltages of all types. This includes AC and DC voltage outputs depending on what is being powered. Systems can also be designed as backup power for buildings or sites using automatic power transfer switching.
Optional backup generators are available for integration into your trailer system. Trailer systems can have low wattage output ratings of a few hundred watts, all the way up to multiple kilowatt power output. No matter where you need a power source, count on us to engineer a solar power system that is reliable and high quality.
Power capacity and output voltage(s) are engineered for your requirements
AC/DC or AC only/DC only power output systems available
Heavy-duty construction engineered for rough use environments
Pre-assembled for immediate use
DOT certified trailers
Leveling jacks for added stability in high winds
25-year sliding scale solar panel power warranty
5-year solar controller/power inverter warranty
2-year limited battery warranty
Remote sites
Construction sites
Communications sites
Backup/emergency power
Base camps
Oil/gas drill sites